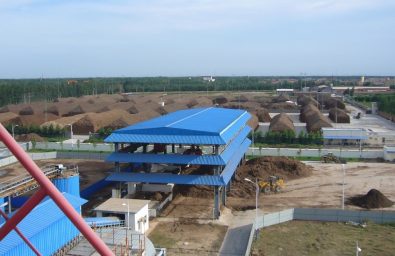 A 15MW biomass-fired cogeneration plant was constructed and operated by CLP Huanyu (Shandong) Biomass Heat & Power Co., Ltd. in China, with net electricity sold to the Shandong Power Grid and net heat supplied to the nearby industries.
Utilizing waste residues, including cotton straw, bark and woodchip, as biomass fuel for cogeneration, the project is expected to consume approximately 104,000 tonnes of dry biomass per year and export roughly the net amount of 60,900 MWh of electricity and 503,500 GJ of heat annually that displace fossil fuel-dominated grid electricity and fossil fuel-based captive heat generation respectively.
The plant is located at Zhaihao Village, which lies in the southeast of Boxing County, northeast of Shandong Province in China, and surrounded by several industrial plants such as paper industry and chemical industry.
CLP Huanyu (Shandong) Biomass Heat & Power Co., Ltd.
Registration under the Clean Development Mechanism
The project has been registered as a Clean Development Mechanism project under the United Nations Framework Convention on Climate Change in 2011.
The project has been in commercial operation since late November 2008. Due to the lower-than-expected demand for steam from the nearby industries after the project implementation, CLP decided to replace the 6MW back pressure steam turbine generator with a new 15MW extraction-cum-condensing steam turbine generator in the middle of 2009. This modification work has been completed in March 2010 and the commercial operation has been resumed since then.
Estimated amount of carbon credits
Based on the project plan, this project has the potential to reduce the greenhouse gases emission reductions equivalent to approximately 100,000 tonnes of CO2 per annum.